Joslin Diabetes Center and Holiday Season in Boston
Takafumi Ogawa
I am a research fellow in M.D. Ph.D. T. Keith Blackwell's laboratory at Joslin Diabetes Center (JDC) affiliated with Harvard Medical School, Boston, MA, since April 2018. I thank JSPS foundation under the Program for Fostering Globally Talented Researchers for giving me the opportunity to research at Boston.
In the laboratory, we study the function and the mechanism of Insulin/IGF signaling pathway using the nematode Caenorhabditis elegans and human cells with a focus on the stress-response transcription factor NRF (C. elegans' SKN-1). We also investigate longevity and healthy aging controlled by nutrient-response factors and other regulators such as mTORC1.
Here, I briefly describe JDC and Holiday season at Boston. JDC was founded as a first clinic specialized in Diabetes by Dr. Elliott P. Joslin at 1898. He is considered the first doctor in the world for recording symptoms, progress and treating diabetes. He carried the treatment of carbohydrate- and calorie-restricted diets and exercise before Insulin was discovered. He also wrote 'A Diabetic Manual for the Mutual Use of Doctor and Patient', which is the first diabetes patient handbook and he devoted all his career to find the cure diabetes. Now he is called 'the father of diabetology'. 20,000 and more patients have been to treat in JDC in a year and hundreds of scientist have tackled to basic research to completely cure for Diabetes.  
From the end of November, there is Thanksgiving day, which is the start of the holiday season.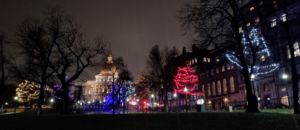 In this season, a lot of events such as Thanksgiving party, Christmas and New Year celebration is held. People enjoy these parties with their friends and coworkers, where we could learn about different cultures gastronomy by bringing traditional dishes each.
I had spent fruitful days with studying research skills and how to develop the research. I would like to keep working on research so that I can contribute to the realization of health and longevity. Next time, I would like to introduce my own research and cooperation with other laboratories and research facilities.