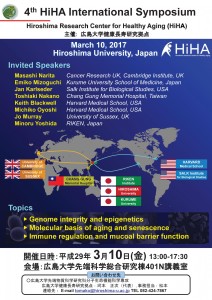 HiHA 4th International Symposium was held on 10th March.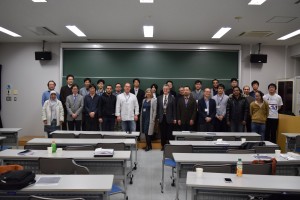 This time, we had invited 8 distinguished researchers from 4 countries. Speakers discussed their upfront research topics on healthy aging from a wide variety of points of view including genome integrity and epigenetics, genetic regulation of lifespan, senescence and cellular communication, metabolomics and protein modification and immune responses in human diseases.
This symposium was registered as an Inter-Graduate School Educational Seminar for students who belong to 5 Graduate Schools (Integrated Arts and Sciences, Science, Advanced Sciences of Matter, Engineering, and Biosphere Science).
【Date and time】
10th March 2017, 13:00-17:30
【Place】
AdSM building, Room 401N
【Speakers】
Masashi Narita (Cancer Research UK, Cambridge Institute, UK)
Emiko Mizoguchi (Kurume University School of Medicine, Japan)
Jan Karlseder (Salk Institute for Biological Studies, USA)
Toshiaki Nakano (Chang Gung Memorial Hospital, Taiwan)
Keith Blackwell (Harvard Medical School, USA)
Michiko Oyoshi (Harvard Medical School, USA)
Jo Murray (University of Sussex, UK)
Minoru Yoshida (RIKEN, Japan)
【Topics】
▶Genome integrity and epigenetics
▶Molecular basis of aging and senescence
▶Immune regulation and mucoal barrier function
【Host】
HiHA
【Inquiries】
Leader of HiHA: Seiji Kawamoto
Office staff: Matsumoto
Department of Molecular Biotechnology, Graduate School of Advanced Sciences of Matter, Hiroshima University
TEL: 082-424-7867
E-mail: tomako@hiroshima-u.ac.jp (change the @ to one-byte character)